Experts in collaborative 'Healthy Neighborhoods' efforts spotlight what works, what's next for improving health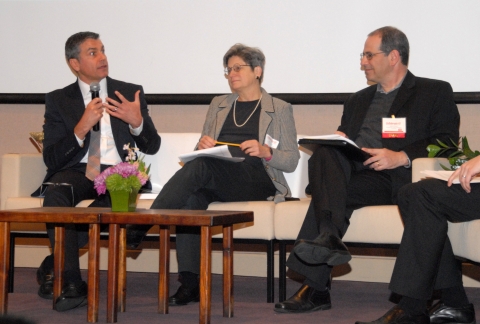 February 2015
Experts in diverse fields, including housing development, health care, banking and grantmaking, gathered for the inaugural Healthy Neighborhoods Regional Convening, held Feb. 6, 2015, at Preservation Park in Oakland. The daylong forum, hosted by the East Bay Asian Local Development Corporation, focused on an examination of collaborative community projects — in Oakland and around the country — that improve health and the keys to creating and measuring project success.
The Healthy Neighborhoods Regional Convening, which also drew neighborhood residents, city planners, health advocates, community developers and funders,
was sponsored by Sutter Health Alta Bates Summit Medical Center, Low Income Investment Fund, Citi Foundation, and the Federal Reserve Bank of San Francisco.
Approximately 120 attendees from public and private organizations participated, demonstrating strong interest in a growing, coordinated movement in which groups specializing in community development, health and collective impact increasingly overlap and combine their activities and resources — including health data gathered — to better improve resident well-being in target neighborhoods.
"Today, we are learning from organizations who are forming collaborations that work to spend an ounce of prevention to save a pound of cure," said Joshua Simon, executive director for EBALDC.
The event began with participants literally holding hands during a blessing delivered by the Rev. Raymond Lankford of Healthy Communities. It concluded with a call to action from Simon that the group commit to connecting with potential partners and aligning work around the goal of improving health for residents in specific Oakland neighborhoods. New Oakland Mayor Libby Schaaf, a lifelong city resident, delivered opening remarks to audience members, praising their resolve to tackle complex challenges associated with place-based health, particularly in poorer parts of the city.
Schaaf and other event participants acknowledged jarring discrepancies — based on a resident's zip code — in life expectancy and other aspects of health, from low birth weight to school dropout rates, factors known as social determinants of health. Alameda County Health Department research, for instance, indicates that compared to a white child born in the Oakland Hills, an African American child growing up in West Oakland is likely to live a shorter life by 14 years.
Collaborations such as those spotlighted at the Healthy Neighborhoods Regional Convening are emerging to help change the pattern.
In convening for the day, participants had already made a notable first step, with several crediting EBALDC's leadership in organizing the Healthy Neighborhoods-focused event, the first of its kind for the Bay Area.
In noting the national prominence of event speakers, David Erickson, director for the Center for Community Development Investments at the Federal Reserve Bank of San Francisco, observed: "I thought this was a national event. I've been getting emails from people all over the country who are interested in this event. You're being watched."
The attention was well-deserved, according to keynote speaker Howard Klink, a consultant for Portland's Housing With Services, a successful project that was funded through a limited liability partnership.
"The work that's being done here (in Oakland) is incredible," Klink said. "I'm in awe of the series of presentations."
Klink also applauded the structure of the event, which he described as progressing from a macro perspective, as provided by a morning panel discussion featuring nationwide experts — representing the Federal Reserve Bank of San Francisco, Low Income Investment Fund, EBALDC and Build Healthy Places Network — to the micro perspective offered by presentations on eight place-based initiatives. The latter included Klink's detailed discussion of a sophisticated multi-building initiative in Portland that began as a project for affordable housing residents.
A highlight of the forum came midway when 18 individuals, representing seven collaborative neighborhood initiatives, delivered presentations in the Pechakucha style. Pechakucha, or Japanese for chit-chat, refers to a presentation style with a limited number of slides and strict time limits.
Projects spotlighted included a partnership between the Best Baby Zone and Youth Uprising in the Castlemont neighborhood of East Oakland. The project has resulted in a neighborhood marketplace for entrepreneurs that has given some 20 vendors a place to sell crafts, jams and jewelry the first Saturday of each month. Additional presentations featured the Oakland Sustainable Neighborhood Initiative's (OSNI) work mobilizing residents in collaboration with economic development organizations along International Boulevard. And San Pablo Avenue Revitalization Coalition (SPARC) members talked about their plans for addressing health issues between downtown Oakland and the Emeryville border.
Consultant Natalie Bonnewit briefly described the innovative funding approach in which multiple partners pooled their money in a way that allowed them to tap Affordable Care Act dollars. Together, they financed renovation of California Hotel. Partners included EBALDC, LifeLong Medical Care, the Oakland Department of Human Services and the Alameda County Department of Health Care Services. Other presentations highlighted: work with seniors to make their neighborhood more age-friendly; a new charter school coming to West Oakland; and East Oakland Building Healthy Communities' partnership with the Alameda County Public Health Department, City of Oakland and ChangeLab Solutions through which they jointly are creating a healthy development guideline tool. During the final presentation, evaluation consultant Joseph Schuchter shared a new framework for measuring ways community development contributes to creating healthy neighborhoods.
"I loved the Pechakuchas," said John Moon, district manager for Community Development for the Federal Reserve Bank of San Francisco. "It was a brilliant way to learn all the interconnected things happening, all with their own approach. It raised the question for me: How do we connect?"
A common theme throughout the day's sessions was: No one can do it alone, be it funders, nonprofits or policymakers.
Attendee Lauren Hendler, director of Community Health Initiatives for YMCA of the East Bay, echoed the sentiment.
"One of our main programs is diabetes prevention," Hendler said. "So I'm always looking for partners. I can't just do it alone … All these parts are each a piece of the puzzle."
At the conclusion of the Healthy Neighborhoods Regional Convening, EBALDC's Simon led a call to action and summarized a few lessons learned during the day's discussion, including: the importance of measuring the right things or "what's measured matters;" identifying preventative steps that save effort and money in the long-run; and aligning objectives between partners.
"We are all working to increase our collective impact to achieve total health," said Simon. "By increasing the collaboration between organizations with different services who serve the same neighborhood, we can address the difficult systemic issues that shorten people's lives and dramatically increase healthcare costs. By working with funders and policy leaders, we can realign funding to pay for the solutions that open doors to more healthy lifestyles."
Simon invited participants to continue the discussion and collaboration by contributing their ideas to event organizer and EBALDC Healthy Neighborhoods Manager Romi Hall at healthyneighborhoods@EBALDC.org.
About Healthy Neighborhoods Regional Convening
The Healthy Neighborhoods Regional Convening objective is to bring together in one room those working at the intersection of community development, health and collective impact to share tools, lessons learned and innovative techniques, as well as to recruit new organizations and funders to partner and align with work happening on the ground in Bay Area communities. Find details and the agenda for the Healthy Neighborhoods Regional Convening online. The Healthy Neighborhoods Regional Convening is sponsored by Sutter Health Alta Bates Summit Medical Center and the Partners in Progress (PIP) initiative. PIP is funded by the Citi Foundation and administered by the Low Income Investment Fund. The PIP program funds "community quarterbacks," trusted local organizations that align objectives, resources, goals and efforts among stakeholders to create strong, resilient neighborhoods and pathways to opportunity. Selected as one of the first PIP community quarterbacks in the nation, EBALDC has convened 10 core partners to initiate the San Pablo Avenue Corridor partnership and its Healthy Neighborhoods approach.
About EBALDC
East Bay Asian Local Development Corporation is a nonprofit community development organization that builds healthy, vibrant and safe neighborhoods in Oakland and the greater East Bay. We develop and manage high quality affordable apartments and homes, retail spaces for local small businesses and community centers, while fostering increased economic opportunities for low-income families and individuals. These comprehensive programs help families and individuals begin a path toward financial security and access to resources they need to lead healthy, stable and fulfilling lives. Learn more at www.ebaldc.org.