Oakland Community Celebrates the Grand Opening of West Oakland's Historic California Hotel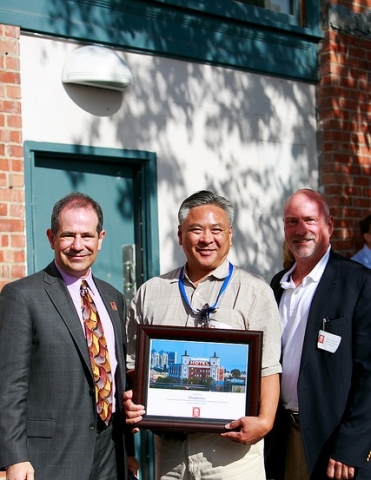 May 2014
On May 15, East Bay Asian Local Development Corporation (EBALDC) celebrated the grand opening of the historic California Hotel. EBALDC welcomed State Assemblymember Nancy Skinner, Oakland Mayor Jean Quan, Oakland District 3 Councilmember Lynette Gibson McElhaney, residents of the California Hotel, project funders and community supporters to the event at this historic landmark.
"I'm so pleased to celebrate this grand opening – actually re-opening – of the California Hotel, a treasured part of Oakland's history," said Assemblymember Skinner. "We need more safe and affordable housing that helps people stay in the neighborhoods they love, as well as space for small business. The California Hotel is a great step forward."
Located at 3501 San Pablo Avenue, the California Hotel provides 137 newly renovated, safe, healthy and affordable homes. On-site health care and supportive services for residents are provided by LifeLong Medical Care. Ground-floor commercial spaces create opportunities for local businesses. In the back of the hotel is a 9,000 square foot organic garden operated by People's Grocery, where residents help grow vegetables and raise chickens.
Photos from the California Hotel Grand Opening
"The California Hotel is a prime example of EBALDC's work to create healthy neighborhoods where residents have access to stable housing, healthy food, and educational and employment opportunities," said EBALDC Executive Director Joshua Simon. "And, it's a cornerstone of our work along the San Pablo Corridor, where we are working with other organizations to create an 'age-friendly' community that enables residents to age in place."
Built in 1929 in the popular Mission-Spanish Colonial Revival style, the California Hotel grew to become a cultural and musical hub, as jazz greats like James Brown, Ray Charles, Billie Holiday, Sly Stone, Mahalia Jackson and Big Mama Thornton performed at the club. The hotel is listed in the National Register of Historic Places. In the 1960s, the I-580 freeway was built adjacent to the California Hotel; the resulting division of the neighborhood, amidst other social and economic factors, caused financial troubles for the California Hotel. It was shut down in 1971.
The hotel was converted to affordable housing in the 1980s, but abandoned in 2007 and later foreclosed. But the story didn't stop there. Residents fought to remain in the building and were eventually successful, with the assistance of trustee Anne Omura of the Eviction Defense Center. EBALDC acquired the California Hotel in 2011 and began rehabilitation.
"The California Hotel has seen Oakland at its worst and its best," said Simon. "Now, as Oakland experiences a new wave of development and as housing prices rise, we are committed to maintaining this important part of West Oakland as affordable, safe and healthy housing."
Major partners in the California Hotel rehabilitation are Gelfand Partner Architects, Cahill Contractors, Inc. and Bonnewit Development Services. Funders and investors include Enterprise Community Partners, U.S. Bank, California Housing Finance Agency, California State Department of Housing and Community Development, Alameda County Behavioral Health Services, Alameda County Department of Housing and Community Development, Oakland Housing Authority and the Corporation for Supportive Housing.
Media Coverage of the California Hotel Grand Opening
Oakland:  California Hotel Reopens As A Home For Low-Income Residents – Oakland Tribune, 5/15/14
Oakland's California Hotel Gets Facelift In Hopes of Revitalizing Area – KTVU-2, 5/15/14
Historic California Hotel Reopens In West Oakland – KCBS, 5/16/14
Oakland's Historic California Hotel Reopening After 3-Year Renovation – KPIX-5, 5/16/14
West Oakland Landmarks Provding Housing Options – Oakland Tribune, 5/25/14