Lion Creek Crossings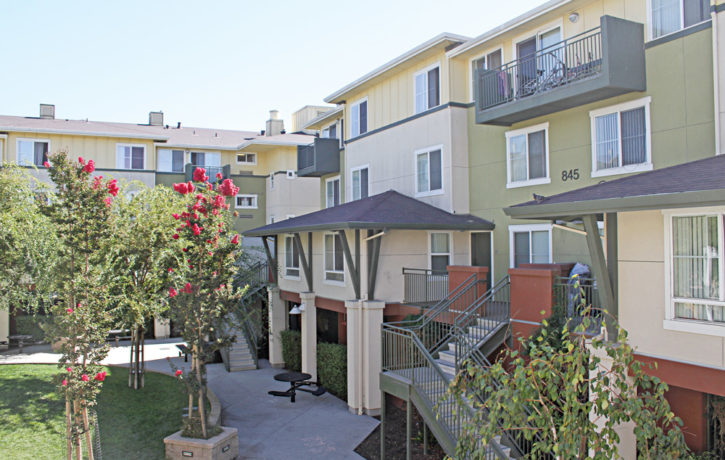 Site Info
Neighborhood:
Oakland - Havenscourt/Coliseum
Address:
881 69th Avenue
Oakland, CA 94621
Unit Type:
567 units (1-5 BR), including 128 senior
Amenities
Computer lab
Property Description
Lion Creek Crossings is an exemplary model of our Healthy Neighborhoods approach. From the beginning, we have worked with our partners to ensure that the community that lived at and around Coliseum Gardens was part of the planning process, including planning for the 5.7 acre park with a restored creek, available services on-site, and structure of the complex (such as the various playgrounds throughout the complex, with a central open space at the park).
The property offers 567 affordable homes to families and seniors, and public housing. The property has a number of direct services onsite, including two early childhood education programs, a computer center, an after-school program, and a Family Resource Center that is tied to our local public schools that is operated by EBALDC that provides support and financial services.
Resident Services
Lion's Pride Technology Center: State-of-the-art computer lab with new computers, and service coordinators available for support and financial services. Every year, over 800 individuals come to the Technology Center more than 5,000 times to access these computers for learning opportunities and social connections.
EBALDC's Family Resource Center: Connects anyone at Lion Creek Crossings or from the neighborhood beyond to services they need, and directly supports individuals with benefits enrollment, housing stabilization, basic employment seeking skills, navigating healthcare, and financial services at SparkPoint Oakland.
Lion's Pride Program: This is an integrated after-school and summer program for Lion Creek youth from grades K–5th in collaboration with the local Havenscourt school campus. We follow the district's Youth Program Quality Assessment (YPQA) standards for youth development, which include strong a strong emphasis on safe and supportive environments, for this service.
Early Childhood Programs: We also partnered with two early childhood agencies, the City of Oakland's Head Start Program and Supporting Future Growth, to locate centers at the site. We also ensured that various playgrounds were available throughout the complex, with open space at the park in the center.
Dallaq Market: In a neighborhood that doesn't have a grocery store within walking distance, the market (owned by Lion Creek Crossings, Akram and Ishta Dallaq) serves neighbors and the surrounding community with fresh produce.