Vision
EBALDC forges thoughtful partnerships across industries in Oakland to address specific social conditions unique to each neighborhood. Our rich knowledge of Oakland enables us to identify and establish the right partnerships across different industries to address each community's needs. By aligning resources and goals, we leverage the expertise of each partner to collectively make an impact on the health and wellbeing of residents in under-resourced neighborhoods.
Our Role as a Neighborhood Impact Incubator
We launch and shepherd each collaborative with support and resources through its pilot phase, with the objective of handing the collaborative to the partners. We convene neighborhood residents, institutional partners, and organizations across a diversity of industries to participate in the collaborative.
Neighborhood-Informed Priorities
We are also guided by our community-led process to benefit the neighborhood. We work with community residents and community partners to identify assets, neighborhood concerns, areas of priority and develop action plans.
Where We Work
We see the city's highest distribution of poverty strikingly correlates to patterns of death and disease. An African-American child born in West Oakland can expect to live almost 15 years less than a Caucasian child born in the Oakland Hills (a more affluent neighborhood) as a direct result of the differences in environment and wealth in the neighborhood1. Through our work, we aim to bridge this divide and transform Oakland's disadvantaged neighborhoods into healthy places to work, live, learn and play. We currently have collaboratives in the San Pablo Avenue Corridor (West Oakland) and Havenscourt (East Oakland) neighborhoods.
1. Alameda County Public Health Department, Life and Death from
Unnatural Causes: Health and Social Inequity in Alameda County, 2008.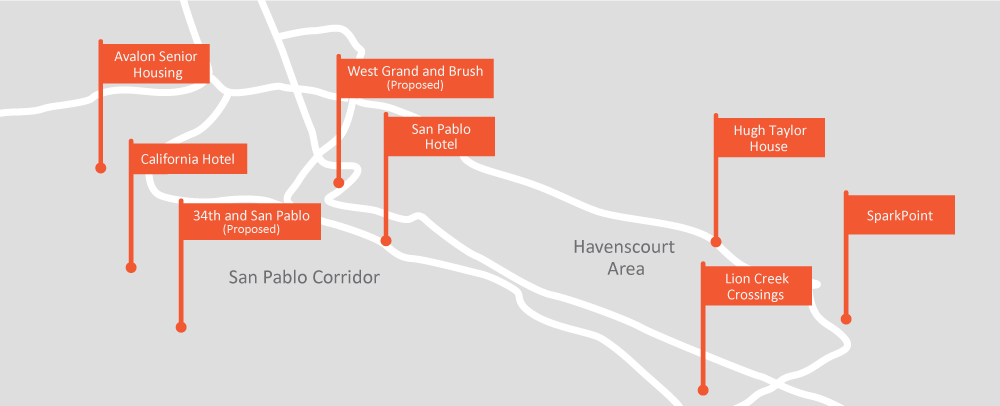 The Healthy Havenscourt Collaborative
Informed by the community's priorities, The Healthy Havenscourt Collaborative seeks to improve factors such as education, workforce development, housing, local business development, community leadership, and stress that will lead to better long-term health outcomes for residents. We also recognize how much environmental, economic, social, and healthcare access affect chronic conditions such as asthma. The Collaborative will build on neighborhood assets, align efforts, and pool resources to better achieve common outcomes. READ MORE
San Pablo Area Revitalization Collaborative (SPARC)
Formed in 2014, the San Pablo Area Revitalization Collaborative (SPARC) is dedicated to improving health and wellbeing of 8,000 residents living near and along 1.5 miles of the San Pablo Avenue Corridor and the surrounding neighborhoods in West Oakland. Rather than reinventing what many others are already doing towards this goal, the Collaborative will build on neighborhood assets, align efforts, and pool resources to better achieve common outcomes. With the neighborhood's help to inform priorities, SPARC has identified actions to implement over the next five years. READ MORE